Once again – after Brighton, Barcelona, Montreal and Malmö – our home exchange with family Ortega-Aranda from Madrid was a very nice experience: We enjoyed the time in Mojácar and found many good reasons for the position of our house – their holiday home – being ideal: the private communal garden and the swimming pool for immediate refreshment and relaxation, the wonderful terrace surrounded by plants and flowers of various Southern origin and appearance, the short distance to the sea, the close Chiringuitos (beach bars which – just to mention it – are not distributed equally in that quality along Mojácar beach), the short distance to the next convenient shopping centres and an Internet corner "next door". Not far away we found the "virgin beaches" for nudist as well as textile bathing, Mojácar pueblo and the "Parque Comercial". One never has to care at all about the weather in that area, the only drawback even being that it is too hot for true sportive holidays 😉
It was also a nice – and maybe last time – experience to spend (parts of) our vacation together with our grown-up children Lisi and Mike as well as Lisi's Swedish boy friend Tim. We had a great time together, but also individually, and any house work – be it cooking, cleaning and shopping – was shared between the five of us. And there were hot fights for the "minigolf championship", the "pool volleyball masters" and the "Carcassonne tournaments" (the latter being a game brought along by Tim from Sweden or Norway).
Visit the photo gallery.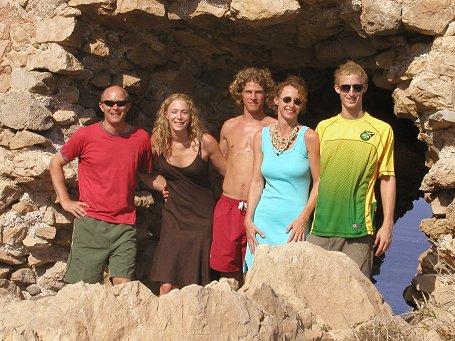 Georg, Lisi, Tim, Susi and Mike at the "Torre del Perulico"

We also heard from the children, who had returned one week earlier, and especially from Mike, who had been on closer terms with daughter Marina, that family Ortaga-Aranda enjoyed their time in Austria, too: They went to see Vienna, Innsbruck, Aachensee, the Glocknerstrasse, further some regional sights, like Seewaldsee, the waterfall in Golling – and of course, they enjoyed some performances of the Salzburg Festival.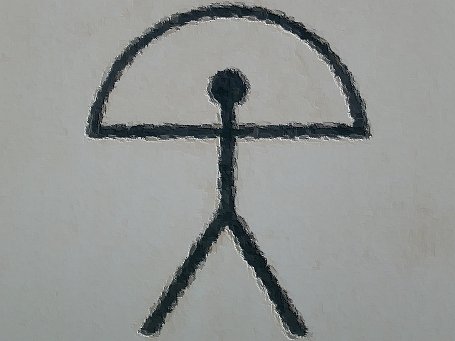 The "Indalo" – a regional Andalusian symbol of luck and prosperity